Jail Resources
leadership, resources and training for jails.
NSA focuses on Providing Leadership, Resources & Training for Jails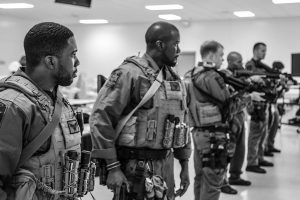 Recognizing that jails are one of the most litigious and largest liability concerns a sheriff faces, and the fact that sheriffs operate over 85% of the jails in the United States, it makes sense that the National Sheriffs' Association focuses its efforts on providing leadership, resources and training for jails.
Legal-Based Jail Training Guidelines
Self Audit and Assessments
Verification Inspections
Model Policy
Resources
We encourage sheriffs, jail administrators and staff to utilize the resources found within the website as well as those services made available to registered members, such as the jail seminars, articles written by the foremost corrections experts, online training, model policy and the legal-based jail guidelines.
Recruiting and retaining qualified talent is one of the toughest challenges facing the corrections field today. DiscoverCorrections.com is here to help. As the first hiring website dedicated to promoting corrections careers, DiscoverCorrections.com puts powerful tools in your hands. Post your jobs. Search resumes. Reach a local and national audience of informed, interested and qualified candidates. And do it all, absolutely FREE.
Bureau of Justice Assistance (BJA)
Bureau of Justice Statistics (BJS)
National Institute of Corrections (NIC)
Prison Rape Elimination Act (PREA) – PREA is a Federal law established in 2003 to address the elimination and prevention of sexual assault and rape in correctional systems.  PREA applies to all federal, state, and local prisons, jails, police lock-ups, private facilities, and community settings such as residential facilities.  Learn how PREA affects you and your agency.
National Prison Rape Elimination Commission Standards for the Prevention, Detection, Response, and Monitoring of Sexual Abuse in Adult Prisons and Jails AND Supplemental Standards for Facilities with Immigration Detainees (pdf)
Report on Rape in Jails in the U.S. (pdf)
Continuity of Operations Planning for Sheriffs Final Report (pdf)
More Mentally Ill Persons Are in Jails and Prisons Than Hospitals: A Survey of the States (pdf)
The Future is Now: Recruiting, Retaining and Developing the 21st Century Jail Workforce – With funding from the U. S. Department of Justice, Office of Justice Programs, Bureau of Justice Assistance (BJA), the Center for Innovative Public Policies, Inc. (CIPP) has produced the final pre-publication draft of The Future is Now. Primarily developed as a toolkit to help jails address workforce-related issues, this document can also be used to keep funding authorities, policy-makers, community groups, and other stakeholders informed about these critical issues. Preparation of The Future is Now was guided by a national advisory panel of sheriffs and jail administrators representing jails of varying size, location, and organizational structure throughout the country.
Jail Info Model (pdf)
Here you can create the content that will be used within the module.