Upcoming Webinars
Presented in collaboration with the Justice Clearinghouse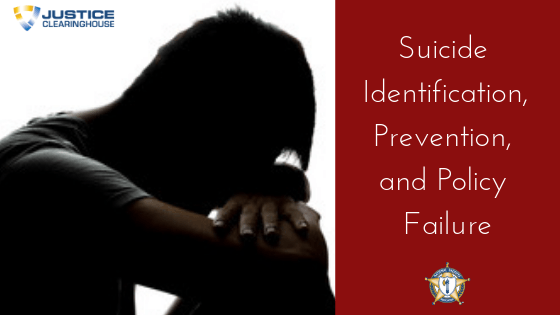 Date/Time by Timezone
Wed, May 1st, 2019 1:00 PM – 2:00 PM ET
Wed, May 1st, 2019 12:00 PM – 1:00 PM CT
Wed, May 1st, 2019 11:00 AM – 12:00 PM MT
Wed, May 1st, 2019 10:00 AM – 11:00 AM PT
Identification and discussion of evidence- and scientific-based suicidal behaviors will be highlighted, along with strategies to prevent and minimize these unfortunate, in-custody deaths. Findings from scientific-based studies about humans dying from hanging by ligature will be discussed to show why most correctional "suicide watch" policies are deficient. Timely in today's correctional environment, this User-Level program will give you the information needed to help identify, prevent, and minimize these tragic in-custody deaths.
PRESENTER: JOHN G. PETERS, JR., Ph.D., CTC, CLS
John G. Peters, Jr., Ph.D., CTC., CLS serves as president, and chief learning officer of the Henderson, Nevada-based Institute for the Prevention of In-Custody Deaths, Inc.  A former law enforcement administrator, deputy sheriff, and police officer, Dr. Peters has been conducting law enforcement training across the globe since 1979. John was also a member of the United States Secret Service Defensive Tactics Advisory Panel.
---