DC Opioid Epidemic Roundtable
National Sheriffs' Association in collaboration with the Daniel Morgan Graduate School of Security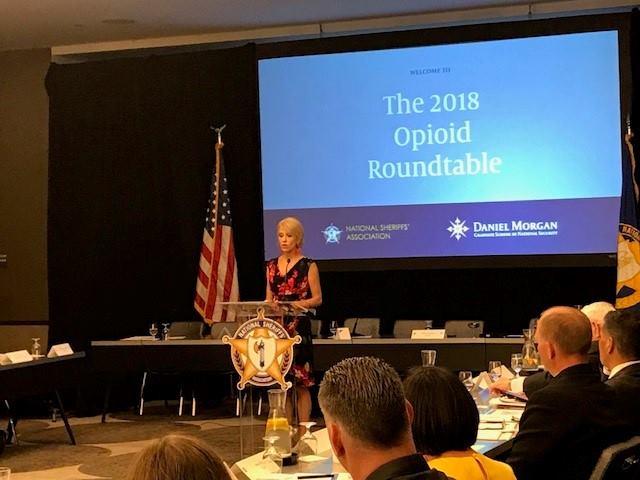 The 2018 Opioid Roundtable
White House Counselor Kellyanne Conway, U.S. Attorney General Jeff Sessions and DHS Secretary Kirstjen Nielsen Participate in Opioid Roundtable hosted by Daniel Morgan Graduate School and National Sheriffs' Association Multidisciplinary event convenes federal, state, and local leaders to discuss national security implications and develop practical solutions to national opioid crisis
Federal officials joined leaders in law enforcement, education, business, emergency services, and community-based groups yesterday at the 2018 Opioid Roundtable co-hosted by Daniel Morgan Graduate School and the National Sheriffs' Association. The event served as a collaborative discussion amongst key stakeholders to bring forth practical solutions to the national opioid crisis. Yesterday's discussion is part of a series of state conferences throughout the country, each designed to address the challenges presented by the opioid epidemic and integrate successful state and local community efforts into the federal response.
Officials including White House Counselor Kellyanne Conway, U.S. Attorney General Jeff Sessions, and Department of Homeland Secretary Kirstjen Nielsen gave keynote remarks, and discussion panels convened leaders from organizations including the National Center for State Courts, Chambers of Commerce, Ethics & Religious Liberty Commission, and more.
"All of you can help us refocus, I believe, our entire law enforcement apparatus on crime and go after the problem trying America in a more effective way than we ever have," said U.S. Attorney General Jeff Sessions. "We always appreciate the influence of the people in law enforcement that have stayed in local offices, not federal. We want to be supportive of you to try to maximize what you do. That partnership to me has always been, to me, the way to move forward."
Solutions proposed by those on the frontlines of the opioid crisis included education awareness; enhancements to the judicial system through improvements to child welfare for families impacted by the opioid epidemic; and collaboration between industry, the government, and state and local authorities in communities. Leaders agreed on the importance of such collaboration, emphasizing a need for a vertically aligned approach, rather than a single agency or White House initiative.
View Videos & Resources From the Event
---
About Daniel Morgan Graduate School of National Security
Established in 2014, the Daniel Morgan Graduate School of National Security is a Washington DC-based, non-profit graduate school established to accelerate the education, hands-on experience and research competencies of aspiring men and women committed to serving in the US national security community. With an experienced faculty and a crafted curriculum, DMGS educates and prepares future leaders to develop actionable solutions to global and domestic security challenges. To learn more about the Daniel Morgan Graduate School, please visit www.dmgs.org.
About the National Sheriffs' Association
The National Sheriffs' Association (NSA) is one of the largest associations of law enforcement professionals in the United States, representing more than 3,000 elected sheriffs across the nation, and a total membership of more than 20,000. NSA is a non-profit organization dedicated to raising the level of professionalism among sheriffs, their deputies, and others in the field of criminal justice and public safety. Throughout its seventy-seven year history, NSA has served as an information clearinghouse for sheriffs, deputies, chiefs of police, other law enforcement professionals, state governments and the federal government.