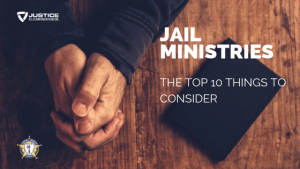 Date/Time by Timezone
Wed, Jan 15th, 2020 1:00 PM – 2:00 PM ET
Wed, Jan 15th, 2020 12:00 PM – 1:00 PM CT
Wed, Jan 15th, 2020 11:00 AM – 12:00 PM MT
Wed, Jan 15th, 2020 10:00 AM – 11:00 AM PT
Religious ministries have the potential to help jail staff, incarcerated people, and family members.  Too often, unfortunately, there is unintended friction between jail staff and religious volunteers.  This friction can interfere with the success of jail ministries.  By discussing key issues before the religious ministry begins, jail staff can decrease potential problems and increase benefits.
During this webinar, we will discuss:
The nature and extent of jail religious ministries.
Potential conflicts between jail staff and those working in religious ministries.
Specific jail ministry issues.
** This webinar has been certified by the National Sheriff's Association and may be eligible for Continuing Education Units through your POST. Please consult your local certification processes for additional details. Paid subscribers that attend will be able to download a jointly issued attendance certificate that includes the National Sheriffs' Association logo.
PRESENTERS
Dr. Dan Phillips the Regional Coordinator for Faculty Development and an instructor of Sociology and Criminal Justice at Campbellsville University in Harrodsburg, Kentucky.  Dan has conducted workshops at the National Sheriffs Association and the American Jail Association. He has published in Corrections Today, American Jails, and Sheriff and Deputy magazine about mental health, suicide and jail chaplains.  Dan has also provided in-service training for police officers on these same issues.  He has edited 2 books: Mental Health Issues in the Criminal Justice System and Probation and Parole: Current Issues.  In 2018 he co-authored an article in Sheriff and Deputy magazine entitled, "Partners in Prayer: 10 Issues for Jails and Religious Ministries to Consider to Ensure Success."
---
Brandon "Choe" Sergent, M. Th., serves as the Assistant Vice President for University Outreach at Campbellsville University.  Choe also serves as Senior Pastor of Junction City First Baptist, one of largest churches in that region of KY.  He holds a master's degree in Theology and master's degree in Management and Leadership from Campbellsville University, and is currently pursuing his Ph.D. in Leadership.  Choe has served numerous organizations where he has assisted them to consistently experience growth and revitalization.  In 2018 he co-authored an article in Sheriff and Deputy magazine entitled, "Partners in Prayer: 10 Issues for Jails and Religious Ministries to Consider to Ensure Success."